The best part of a doll like Ever After High or Barbie is dressing them up in different outfits. But where to find additional outfits without buying yet another Ever After High doll? I did a little search on the web, and found some options. I bought these outfits from eBay and Etsy sellers, and am very happy I did.
For my YouTube Review video, click here.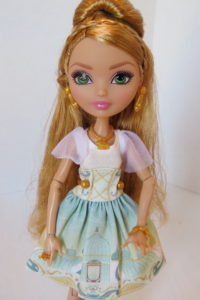 I found this seller, Lambellina, on Etsy. Her line is elegant and beautiful. Ashlynn Ella is modeling The Glass Garden Conservatory skirt and blouse with Peplum Crop Jacket with antique buttons.
Here's another seller from Etsy, ElenaShowRoom. Raven Queen is modeling the hat and long-sleeve crop top. Everything was really adorable and fit perfectly.
Another option I discovered is purchasing just the Mattel Ever After High outfit without the doll from an eBay seller named ToyBoyAtl. I ordered the Madeline Hatter Way Too Wonderful outfit and the TriCastleOn Hunter Huntsman outfit. Both outfits came with all their original accessories, including Hunter's bow and arrows and Madeline's jewelry. I put the outfits on the dolls I already owned. It was less money than buying yet another Madeline Hatter doll. And a lot less than buying the TriCastleOn Hunter Huntsman doll, as he was packaged in a three-pack with Cerise Hood and Lizzie Hearts (suggested retail price $48.99).