I was charmed by the delightful furniture in the Ever After High Beanstalk Bakery and Hat-Tastic Tea Party playsets. The whimsical details make them worth the price.
Click here for my Beanstalk Bakery video.
Click here for my Hat-Tastic Tea Party video.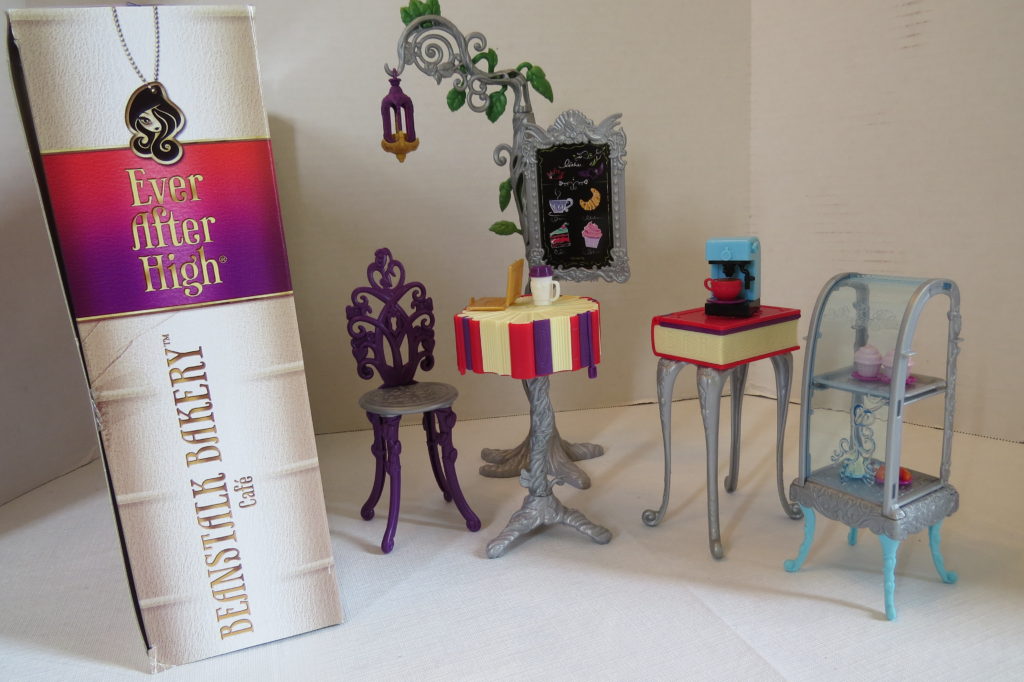 The Beanstalk Bakery comes with two tables, a chair, one menu and lantern hanging from a beanstalk style tree, and one display case for tasty treats. Accessories include a travel mug, a coffee cup, a coffee maker, four pastries, and a laptop.
BEANSTALK BAKERY PLAYSET FACTS:
Part of Ever After High Doll Line
Made by Mattel for ages 6+
MSRP $19.99
Released in 2014
The Madeline Hatter Hat-Tastic Tea Party comes with an adorable Madeline Hatter doll. The playset includes a table, a tree that holds a side table and chandelier, a bench, and a chair, as well as a tea set, a two-tier pastry tray, and some sweet treats. Too adorable!
DOLL FACTS
HAT-TASTIC MADELINE HATTER:
Ever After High Doll
Made by Mattel for ages 6+
Exclusively packaged with Hat-Tastic Tea Party Playset
MSRP $34.99
Released in 2014
Doll is 9.5 inches