After adding Hunter Huntsman to my doll collection, I thought I'd add a few more male dolls.
Click here for my unboxing and comparison video.
Click her for my unboxing and review video for Fashionista Ken.
I really liked the face molds for Flynn Rider and Finnick Odair when I saw them online. Later I bought a Fashionista Ken, as well.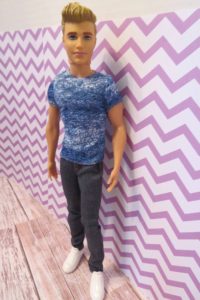 After comparing the four male dolls, I prefer the Ever After High and Ken dolls.
DOLL FACTS
KEN – FASHIONISTA 1 DASHING DENIM
Barbie's boyfriend
Made by Mattel for Ages 3+
Released in 2015
MSRP $9.99
12 inches tall
TANGLED FLYNN RIDER CLASSIC DOLL
Based on the Flynn Rider character depicted in the 2010 Disney animated film, Tangled
Made by Disney for Ages 3+
Released in 2013
MSRP $16.95
12 inches tall
THE HUNGER GAMES: CATCHING FIRE FINNICK ODAIR
Based on the character Finnick Odair, as portrayed by Sam Claflin, in The Hunger Games: Catching Fire
Made by Mattel for ages 15+
Released in 11/1/2013
MSRP $24.95
12 inches tall